Features
envoy operates in a similar way to e-mail, but without limitations of file size, with highest security and with guaranteed delivery. Additionally, envoy simplifies and coordinates the whole data transfer process.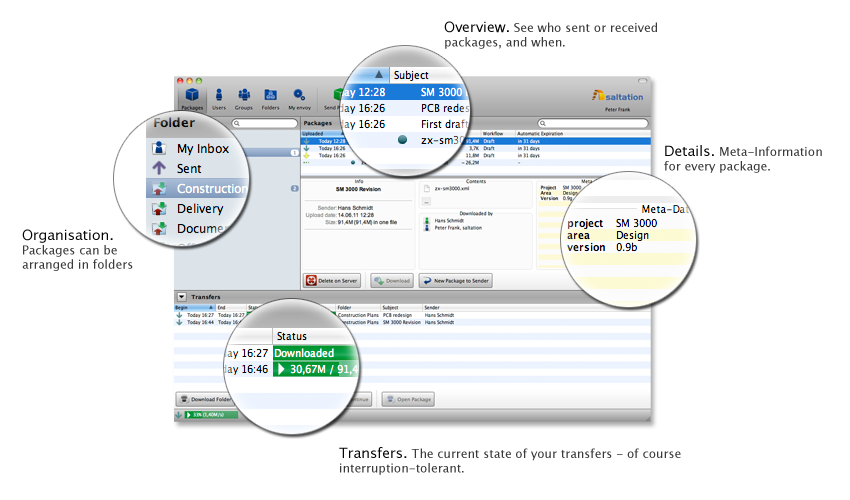 Optimal communication
It isn't a rare occurrence that data transfer causes additional, redundant communication:
"have you got that file yet?"
"has one of your employees already started on the data I sent?"
"What am I supposed to do with the data you sent?"
"Can I delete that file, or is it still needed?"
envoy answers these and many other questions pretty much on its own, using package-tracking, flexible package-add-on information and workflow status feedback! Team members can see right away if a file has already been downloaded and processed by someone else. Envoy supports your staff in all aspects of digital data transmission, and provides file transfer in a way it should have always been!
Workflow-Status
See the current status of your sent data
In envoy, you can define unlimited numbers of workflow states for every folder. For anyone with the appropriate permission, changing workflow states for any packages in such a folder is just one click away. If desired, this status is also visible to the contractor/supplier.
Queries on the lines of "are my data already processed?" or "what is currently happening with my data?" are therefore answered without additional need for e-mails or phone calls.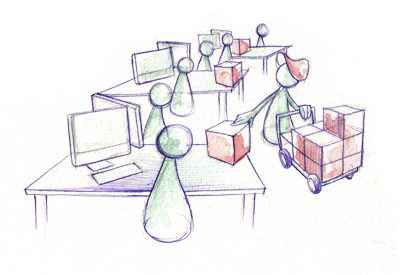 Central administration
Users, groups, rights and folders
In envoy, users and groups are centrally administrated. The integrated role-concept allows for modelling of responsibilities and the distribution of administrative tasks to different team members. In envoy, folders can be equipped with finely granulated permission rights, which are under surveillance by a powerful management platform.
Virtual product insert
Individual meta information for every transfer
Every package sent via envoy has a heading and description. However, how often did you wish for specific information that should be compulsory for every transfer, like project components, customer number, version number etc.? envoy gives you the opportunity to define which meta data is compulsory for the transfer of each folder. These meta data can also be used for automatic data processing.
Platform independence
envoy clients are available for Windows, Mac OS X and Linux
The envoy client is being developed platform-independently, and high-performance, native versions can therefore be delivered for all common operating systems. Envoy will optically integrate into the chosen operating system, and will provide identical function across all platforms....administration and operation are the same, so there is no need to re-learn if you change platforms!
Fast transfer
envoy does the transfer, so you are free to do more important things
automatic compression
unlimited data
interruption tolerance
e-mail notifications
German, English, French
several accounts per client
mailbox function
desktop-notifications with Growl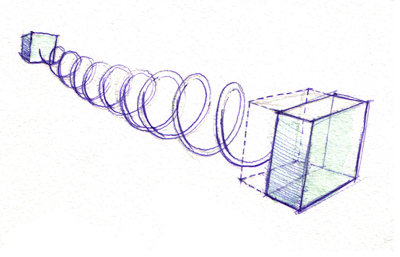 Automatic processing
Packages are automatically passed on to different processes
If desired, the envoy robot can pass packages on to different programs – fully automatically. This can be particularly relevant for the checking of file- or picture formats, or to check for completion. The result of any such test can impact on the workflow status.
Life Cycle Management
Data that are no longer needed are automatically tidied away
One of the particularities of FTP servers, apart from their lack of security, is that data accumulate over the course of years that nobody feels responsible for. This is not only confusing and insecure, but also an unnecessary resource-drain.
envoy's integrated life cycle management makes sure that such data disappear by themselves - according to rules defined for each folder. In the easiest case, data is deleted immediately after being downloaded by the recipient. Alternatively, every download can increase the life cycle of a package by a pre-defined time span....this ensures that important packages stay in the system until they are no longer needed, while unimportant packages are automatically deleted.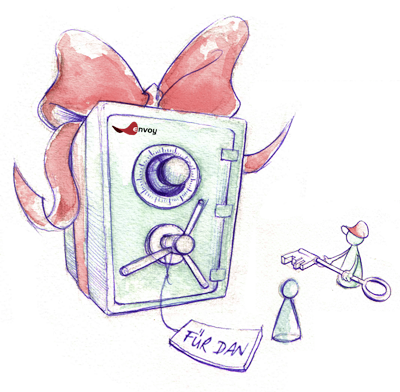 Guaranteed consistency
Once-sent data cannot be accidentally overwritten
A common file-server, be it FTP or web interface, is not auditable. Once-uploaded data can be retrospectively changed or overwritten; this can have severe consequences, since the overwritten data might have already been processed. In envoy, this is not a problem: here, sent packages cannot be retrospectively overwritten. envoy's innovative transfer technology also ensures that your data arrive in the exact state they were sent – there won't be any transport defects.
Try now